Idea:
Up to 10 inches high. Blahnik, Louboutin, Jimmy Choo and no-branded. High heels stiletto shoes! On the beautiful babes, wearing stockings and pantyhose and flaunting down the street in the skirt suits and dresses. Yes, Stiletto Girl is about it.
About legs in high heels, crossed and spread indoors and outdoors. About stilettos and stockings, looking esp. hot while being together. About babes with high heels fetish, unable to content themselves with one pair of stiletto shoes. And more!
Babes:
If a lover of glam slim nudity hits on Stiletto Girl, he will be disappointed with old-fashion and overdressed look of its high heels girls. But we, admirers of real babes in nylons and heels, will be surprised with healthy beauty (juicy tits, asses and legs) of stiletto girls.
Then, it is not a fun for us anymore to enjoy just passionless models in stiletto shoes. We want to see sexy girls, wearing high heels and stockings because they get a real kick out of doing it. And we'll meet such babes inside!
Clothes:
First, Stiletto Girl is about high heels and stockings. Their styles and colors are so various that it'd take a few pages to name all HH stilettos and stockings here. Just believe - you'll find your dream pair (shoes and nylons), put on your dream girl!
Then, the clothes. The high heels girls are dressed only in feminine (mostly mini and slinky) skirt suits and dresses. What is under them? Of course, even sexier lingerie - bras, panties, corsets, girdles, chemises, etc. (from cotton to satin).
Action:
A typical Stiletto Girl episode is a story of a sexy babe with high heels fetish and nylon craze, who'd like you to share the pleasure of enjoying the high heels and stockings. You can also join a pair of such beauties, playing with their stilettos and legs.
Such things as shoe play (high heels stiletto, almost dropping down from toes), shoe self tease (HH licking, sucking, rubbing), slow walking (stiletto clattering, shoe close-ups), a la voyeur shooting (back view, upskirts) and other high heels fetish wows are included!
Summary:
Such HH fetish sites as Stiletto Girl make you happy and unhappy. You can enjoy 100s of legs in high heels and stockings - but you can't touch them, inhale the aroma of heated-up soles and heels and feel the heaviness of legs in high heels with your knees!
But we don't wait for coming alive from Mona Lisa, right? We just look at her with veneration and need nothing more to be happy than her picture. Got my idea? If yes, then Stiletto Girl with its high heels and stockings will make you the happiest man alive!
StilettoGirl.com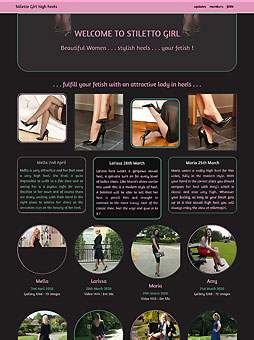 Details:
- 400+ high heel fetish galleries!
- 500+ stiletto girl videos!
- 50+ perfect leggy models!
- updated weekly!
- Exclusive high heels girls stuff!
- $34.95 / 30 days;
- $59.95 / 90 days;
- $89.95 / 180 days
StilettoGirl picture gals: