Idea:
Some things (classic female beauty, come-hither glances, fetching apparel, glamour lingerie) are always in sex fashion. As well as women of 40-60s, whose charm has been mesmerizing us in a mysterious way for years!
Many cameramen have tried to portray the fetching beauty of vintage babes. But looks like only the Pin-Up Wow crew has caught it in all glory. Let's peep inside this vintage erotica world to wow (or eww) with its treasury of pinup women!
Babes:
If you are nutty over pinup babes, then such names as Lucy-Anne Brooks, Petra So, Rachael Boden and Carla Brown sound like heavenly music to you. Yes, you will meet them and many other (guest stars included) glamour girls here.
Pin-Up Wow models are not real vintage babes; they just wear pinup clothes. However, this doesn't mean that these glamour babes are just all-dressed-up stupid dolls - every model really lives a vintage babe's life before the cams!
Clothes:
Naughty apparel and uniforms (glamour lingerie and vintage accessories included) of 40-60s are the main outfits the pinup babes are dressed in to amaze. Satin, velvet, cotton, nylon, lace...a real rave of textures is here!
In details, the glamour babes are dressed-up as young retro housewives, party and glitterati beauts, beach gals, etc. As for uniforms, here are maids, nurses, secretaries, college girls, brides, sports chicks and fairy tales hotsies!
Action:
Nothing but posing and striptease. Blabbing by retro phones, licking lollipops, luxuriating in the beds, having fun in a-la-outdoor interiors, playing pirate girls - pinups girls only pose erotically and do a strip in a solo mode.
Here are also some girl-girl vintage erotica episodes, where two pinup babes fan and frolic (in some case, one of babes is dressed as a vintage man)...And every scene is a lil masterpiece of lingerie erotica and pinup art!
Summary:
Pin-Up Wow is an exclusive vintage erotica site where admirers of 1) pinup, 2) glamour and 3) uniform babes will find gigs of HQ photos and movies of the most beautiful modern girls dressed as retro chicks.
Please keep in your mind that porn scenes are not allowed here and if you are searching for something hotter than erotic striptease, then you should find another retro site to have fun.
PinUpWow.com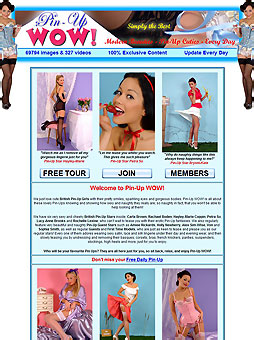 Details:
- 1000+ photosets of pinup babes
- 1000+ vintage erotica videos
- 100% exclusive Hi-Res content
- Daily updates (4 photosets and 3 videos / a week)
- Message board, model index
- $24.95 / 30 days; $44.95 / 60 days; $54.95 / 90 days; $99.95 / Lifetime Access!
Sample gals: