Welcome to JB VIDEO!
JB has specialized in leg and foot fetish videos with an emphasis on nylons for nearly 30 years. Whether it be pantyhose or stockings, most of the models are wearing one or the other or sometimes even both. In fact our models hardly ever take their nylons off! If they do it's usually to try on another pair! Our videos are a unique blend of teasing and pleasing, although many of the girls do masturbate you will find that most of them do a lot of teasing first as they will generally start dressed and strip their way down to their undergarments and hosiery. Some girls are willing to do more than others which is why we shoot both hardcore and softcore videos and pictures. Because of this we attract just as many softcore afficionados as we do lovers of more hardcore action. We do everything from solo girl teasing to girl/girl and boy/girl videos. We also have POV videos where JB gets footjobs from the girls and oftentimes has sex with them. His time in front of the camera is drawing to a close but he still does footjob videos. Our 3 main categories are Pantyhose, Stockings and Foot Fetish. All videos feature either stockings or pantyhose in them and we try to keep each category as separate as possible but many will feature both Pantyhose and Stockings for variety. The Foot Fetish content is done mostly with nylons although some will feature bare foot action. (You can find these by doing a search or clicking on the barefoot TAGS when visible). We try to keep foot shots to a minimum on non-foot content but often nice foot shots can be found regardless, just not lingering ones. Conversely there are many foot fetish titles that non foot people will like because the models also show off their gorgeous bodies and sexy legs in nylons. JB has always listened to customer input and still does so feel free to make suggestions!
JB is a leg, ass and foot man that loves pretty women in nylons, lingerie and high heels! He was an auto body technician up until 1989 when he started JB Video. JB got hooked on women in high heels and nylons when he was a teenager because of a sexy neighbor that always wore heels and hose. This woman left a lifelong impression on the young JB and his passion and love of legs, lingerie, high heels and sexy women still shines through after all these years. Back when JB was coming of age it was difficult to find this type of material in most men's magazines and videos. Then he discovered a magazine called Leg Show. This was very inspiring to him, especially the layouts featured by a photographer from the 50's named Elmer Batters. All this fueled a fire in JB to start his own company which he finally did in 1989. In the early days it was hard finding models so he would hire amateur girls and film them without showing their faces or as the early works came to be called "below the waist". These early videos helped put him on the map and allowed him to hone his craft as he eventually got better, bought better equipment and met more models to film. Now he shoots a variety of girls from amateur and glamour to porn stars. JB strives for the best quality possible and hopes that you enjoy his work.
JBVideo.com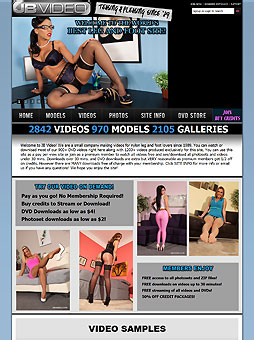 Details:
- 970+ Gorgeous Models
- 2800+ perfect nylon fetish videos!
- 2100+ nylon picture galleries!
- $34.95 / 30 days (then 29.95 recurring every 30 days)